There are a few places in the City of Kings where one can get to relax and get a massage, and when you talk of pampering at its highest quality the list quickly thins. However The Haven Relaxation Beauty Spa does not disappoint when it comes this. We had the privilege of to catch up with Jonine the owner of The Haven Relaxation and Beauty Spa.
How long has The Haven Relaxation and Beauty Spa been around, how was it founded?
We started in 2012. We are actually based on a beauty spa in Perth Western Australia. After moving to Bulawayo and finding that there was nothing really luxurious and relaxing to go to have a treatment, being a beauty therapist myself I complained to my husband and he said to me why don't I open my own, which is what I did. That is how we came to be.
Is it safe to assume the Perth Beauty Spa are the head offices?
My sister owns the Perth one, and I ran it for 11 years and that is what I based our spa on. We have a high level of Therapist professionalism, treatment standard, as well as client comfort and enjoyment. We have managed to make the spa comfortable for both men and women clients.
As a person who has come in here a couple of times I am aware that you do massages, what other services do you offer?
We do massage, facials, manicures, pedicures, artificial nails, reflexology, waxing, tinting and we have recently introduced Spray on Tans, Ear Piercing and IPL, which is Intense Pulse Light,  permanent hair reduction done with a light pulsating.  For more information you can check u out on facebook or call us on (09)239673 or 0776 980 615.
That is a wide variety of treatments. Can you please highlight what reflexology is?
The soles of your feet are a map of your internal organs, so it is like giving your body a gym work out whilst relaxing with a therapist working on your feet.  Therefore, it is giving all those organs a workout using pressure points.
On the pressure point note, do you do acupuncture?
No, acupuncture is with needles and you will have to be trained to be able to do it.
     6. Having moved to Zimbabwe, what has been the biggest challenge that you have faced in running your business?
Probably power cuts and just making people understand what we offer. Seems like people are used to having things simple.  However, we are bringing in another element and we are using quality products and we double sterilise our equipment and our prices aren't exorbitant. We charge the same prices for a pedicure as some of the places in town and the difference would be the quality of products we use, and its first world standards. We do not charge the earth for better quality.
     7. Any plans in the pipeline to open other branches.
We recently confirmed that in June 2015 we will be opening a branch in Victoria Falls.
     8. How have you marketed your business and how has been the response from the people of Bulawayo?
When we first started our we did many of the fairs, like the Bradfield Christmas Fair, The Nesbitt Castle Bridal Fair, and we did a few others which got our name out there. Since then we have focused on advertising on Facebook and  flyer distribution. You know it is amazing  we been around nearly three years and there are people who live here and have never heard of us.
     9. Who is your major clientele at The Haven Relaxation and Beauty Spa?
We have local Bulawayo residents from all races, men and women. Men were very sceptic in the beginning but they have come on board and understand where we come from and what we are all about. Actually, men are getting what we are about now and are seeing our level of professionalism and recommending their friends. We also have a lot of couples that come along to have their treatments together as we provide a double treatment room.
     10. Tell us about your stuff?
All the therapists who work for me are fully qualified and when they have finished their beauty training course, so come out with a certificate and some go on to do their diploma. We have found in Zimbabwe, there is limited beauty therapy training, so we take girls on for attachment and re-train them to the standard that we expect from our therapist.  I have two manageresses and an assistant manageress. I always tell all my girls I am a tough and fair boss but we want to be known as the best spa in town with the best therapists. I equip my staff with the professionalism and the quality that should they leave the country they can get a job anywhere in the world.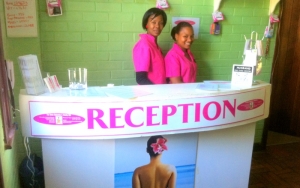 11. What would you recommend for someone like me who is a novice in the relaxation and beauty spa?
We have packages that are not specific for men or women.  We have even educated our male clients to come in for manicure and pedicure. They initially think it's a girly thing but when they see the results they are very impressed. We have seen a trend that the man's first visit is usually a massage. When the therapist asks if there is anything else they usually think about it during the massage. I can guarantee that before he finishes his massage he would be having reflexology, or pedicure, or a facial or something like that. This is because they get here are relaxed and the therapists pampers them. Men enjoy being pampered as much as women do.
      12. True that we do like it and we just pretend we do not. Earlier on, you spoke about the bridal package, what is it and what does it include?
What happens is when girls are getting married they want to have a look so usually we do a couple of trials with their makeup and hair so they know what they will look like on their big day.  A lot of girls would shop around and try get the cheapest, and hopefully look good on the day. What we usually do is the girls come, have a trial in the salon, and know what they want to look like and they can book it for the day. Our therapists can then go to their house on the day. If they do not have room we do it here. Also it is not the bride only, we can cover the whole wedding party as well.
       13. What has been your biggest success so far as a business seeing you running a business under different conditions to Australia?
We introduced a massage club. Now with the massage club it costs you $30 a year to join and you get all the body treatment at 50% off. You can have as many as you like in that year. The bonus is you can bring someone along at the same time and they have a treatment with you same time and also receive the  50% off .
Ok, that is a lucrative deal.
Yes it is. So we have a lot of people that have joined the massage club, they then bring their husbands, friends, or whoever to enjoy the experience. Then their friend think it is a good idea so they join and bring their husbands or friends, it is a bit of a chain reaction. When we first started most people thought there was a catch but there is no catch. What it does is it creates loyalty to your brand and keeps the clients happy.
       14. That would make many clients happy indeed. Last question, having spoken about the new Victoria Falls branch coming up where do you see yourself in 5 years' time? Branch in Harare, Kariba perhaps?
You wouldn't believe how many requests we have had for a branch in Harare. We do have a lot of clients from Harare. They come to Bulawayo for business and visit us to relax whilst they are here. I have also had quite a few people from South Africa ask that we open a branch in their towns as well. Vic Falls is the starting point, and once we stabilise there we will see. Most likely next branch would be in Harare.
Thank you very much for your time, I really appreciate it.
You are welcome.
For anyone who wants to get high quality professional service for a massage, wedding party makeups I cannot recommend The Haven Relaxation and Beauty Spa enough.