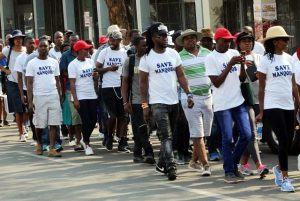 By Brighton Ncube
Journalists and other local artists held the #save manqoba sponsored walk and a concert from the city centre to Hillside dams. This walk and concert was held to raise funds for Manqoba Mabhena. This campaign is set to raise $43 000 for baby manqoba to undertake a liver transplant which will be done in India as baby Manqoba is diagnosed of Biliary Atresia.
Many local artists gathered and came up with an innovative idea to leave a mark and put their hands together to save manqoba . This was a successful walk as it attacted many media and business houses from Bulawayo and across the city.  The walk started from the city hall and ended up at Hillside dams conservancy. This was a colourful campaign as many people were touched and inspired to lend a helping hand to #savemanqoba.
This saw many sponsors coming on board to partake in this great initiative, these include the likes of Delta beverages, Hillside dams conservancy, Private lounge, Bonsa Spar, Mimosa mining house, Buy and Build, Bravo tours, Travellers Guest, Zimpapers, Hawkflight construction, Bakers inn, wholesale Beef.
Manqoba is a daughter of Zimpapers Journalist Lawson Mabhena and Shamiso Yikoniko. Lawson Mabhena appreciated what people have done to help her daughter and thank God for the people around him who have helped a lot in this campaign. Zimbabweans have been urged to lend a helping hand if they have any amount to help #savemanqoba.
The details for helping in this campaign are Ecocash to 0772 935 224 or deposit money to an FBC bank city centre branch under  Shamiso Yikoniko account number is 307 007 007 0125.