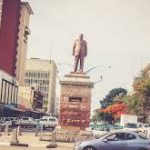 By Brighton Ncube.
Bulawayo , Zimbabwe 's second largest city lies in the south west of the country astride main lines of communication by road, rail and air inbetween south and central Africa. It is this geographical location which has created and made the city the hub of Matabeleland a large province extending from Beitbridge on the South Africa boarder.
Bulawayo is the beautiful city comprising of many talented individuals . Bulawayo has been dabbed the centre of ARTS and the home of TALENT.Bulawayo brags to be the owner of INTWASA arts festival to be the event that brings live in the city, it also brags with the biggest soccer team in the country that has a huge following and that has produced many celebrities Highlanders FC.  Bulawayo has a vast of potential local and foreign tourists visiting many tourist resort areas in the country.Bulawayo has major heavy industries, textiles mills, and also clothing , furniture, and packaging industries.
with all these industries and advantages of being in Bulawayo, it also comes alive in April /May when it host a bigger event which attracts thousands of exhibitors  the Zimbabwe International Trade Fair (ZITF). the arrival of the first train in Bulawayo was in 1897 this was an exciting and a memorable part to forever cherish. Numerous railway lines connect to Bulawayo, these include Zambia, DRC, Angola and Tanzania. with Mozambique and with South Africavia Botswana and Beitbridge.
Bulawayo is the home of were ART is crafted and made. Legends have been born in Bulawayo and continue to shine in the city of Queens and Kings  from the late soccer legend Adam Ndlovu, the former warriors legend and captain Peter Ndlovu, to ARTS legend Cont Mhlanga, Raisedon Baya the man behind INTWASA, Singers born and continue to make Bulawayo proud Sandra Ndebele, Jeys Marabini, Eric Moyo from Joyous celebration, comedians Bulawayo has it all , Babongile Skhonjwa, Carl Joshua Ncube, Ntando Moyo. Bulawayo is the home of ARTS indeed a place to be and enjoy the talent the city has.
We have seen Bulawayo rising to defy the odds with its first commercial radio station located in Bulawayo SKYZ metro fm. Bulawayo is a very attractive city with a great deal to offer in the way of entertainment , outdoor living , sight seeing and commercial business potential. to visitors Bulawayo is the place to be from Mazwi nature reserve, Rest camp,Tshabalala wildlife reserve Chipangali orphanage , natural history Museum , National Art gallery.
from the oldest surburbs in Bulawayo Makokoba, Mzilikazi. Old Luveve, its the place to be and see the happy residents , from Gwabalanda to Nguboyenja, Pumula, Magwegwe, Lobengula, Mpophoma, Phelandaba,Ntumbane, Matshobana, Nketa,Tshabalala,Emakhandeni, Sizinda,Emganwini, Cowdray Park and Mbundane,this is definately the Bulawayo were craft anfd talen is born and raised.
from Queens park, Morning side, Hillside, Saurcetown, Southworld, Romney park Bulawayo has and is contuning to grow and to produce the best in the city.My Bulawayo my home of ART home of craft home of excellence
uBulawayo ngowethu sonke….
@IamBeefactor94 @mybulawayo #mybulawayo