My Bulawayo had the chance to sit down with an great fashion designer from the streets of Bulawayo, Nkulumane, he has made a name for himself in the fashion design industry. He continues to build a legacy that will leave many people buying David Tlale 's labels green with envy. Our team sat down with Nkosilathi , the owner of the label HomBYO , House oF mutu Bulawayo as well as City Designs.
MB.Who is Nkosilathi?
NK. Am a fashion designer, fashion consultant,fashion entrepreneur.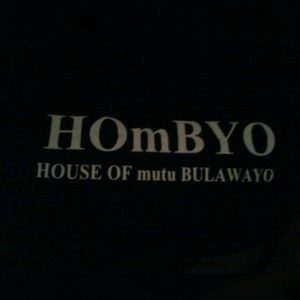 MB. One word to describe yourself
NK.Go-Getter
MB.What inspired you to venture into designing?
NK.I believe I was born with this skill of designing, It was in my genes from the onset,but went to school to upgrade myself and get deeper knowledge of the Fashion designing industry.
MB. Tell us about your journey in the fashion industry?
NK. I began designing clothes proffessionally in 2010, I wanted to do things my way in terms of fashion designing, I saw the need to set up my own fashion label so that i can let my Brand represent anyone.When you look closely at the wide ranfe of clothes i make, each fabric represents an individual. I had the sense that doing things my way in terms of putting fabrics together for someone will have a strong impact in the society.
I got my break through in 2013, when i exhibited at the Clothing Indaba, dressed musicians, I have dressed the likes of Desire Moyo the poet in 2014, went on to dress the music legend Jays majahawodwa Ndlovu on his tour to Austria is entire band was dressed by me,
MB.Where else have you exhibited some of your products?
NK.i have exhibited at the Zimbabwe International Trade Fair,Matebeleland Fashion week, fashion festivals in 2014 and the response from the public has been overwhelming.They love my designs.
MB.I see a wide range of fashion products here, for men for women, different ages, what inspires you to do this
NK.Basically what inspires me is the environment, nature plays a huge role in inspiring most of my works. There is black and white outfit i once made, it was inspired by a bird that normally flies across my surburb, recently i saw another bird with a yellow colour blended with a bit of red I found myself getting ideas on which colour to put on some of my outfits. Again the city of Bulawayo inspires me a lot , it has multi cultural styles and What i love about my art is I make it a point I do not repeat my designs.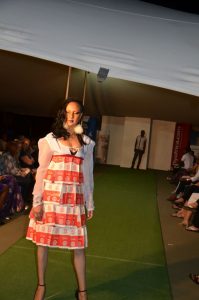 MB.What  are some of the challenges you have faced
NK.People have reduced us designers to tailors, we are not tailors but we are designes. I do not make my clients bring their fabrics, I buy my own material and make outfits, the main challenge i face is that people are more relaxed and are not giving us the attention that we need as designers. people do not pay, we suffer in terms of acquring resources, money to make the work go foward.These are the challenges we face as designers.
MB, is there money in designing in particular Bulawayo?
NK.Money is there but I have not mastered the formula of making it in the fashion design business because of the challenges You and I face day to day.
MB.Take us back to your education background.you highlighted earlier going to acquire knowledge.
NK.Yes i went to school to study this , I was enrolled at Bulawayo Polytechnic in 2013 -2014 , I studied Fashion and designing.
MB. in terms of role mdels in the fashion industry who inspires you?
NK.Charles Federick Worth a french designer in the 1920s i love his work it speaks to me, as well as  Laduma Ngxokolo South African fashion designer.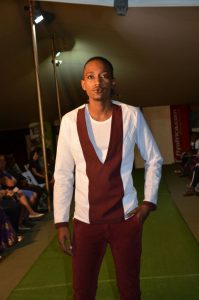 MB. How has been the response from the public
NK. People love my designs but they just pass positive comments but will not come and buy the outfit.I love constructive criticism it builds me and my brand.
MB. in closing sell your brand to the public
NK. eish that is a very difficult thing but my outfits resemble who you are, they speak originality and represnt Bulawayo.They have a creative expression of a township life, HOuse of mutu represents a particular lifestyle and its unique.
MB.How can one get in touch with you?
NK am available on social media and my phone number is 0733 026 439.
MB. Thank you for your time sir
NK. Kubonga mina