One of the best hiphop artists to ever emerge from Bulawayo, Mzobanzi popular known as Dj Mzoe7 has made hits like Kant' sesidlala dololo, nomianted for Zimbabwe music awards, Zimbabwe Hiphop awards , he is well known for his fashion label Gagagugu which makes a wide range of fashionable items. He opens up about his life in music and as an artist from Bulawayo.My Bulawayo (MB) and Mzoe7 (Mzoe)
MB. Who is Mzoe7?
Mzoe; My real name is Mzobanzi Paul Mlauzi, I am an African, am creative , I write my music, I am a composer,am an actor, am a young entrepreneur, am a brother, am a father of zero.
MB. Tell us about your life in music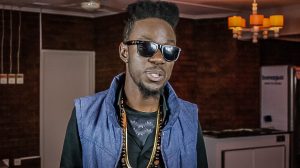 Mzoe: Its been a few years since i ventured into music and I do not have an album yet, have been recording and realising singles I have been nominated twice for the Zimbabwe musical awards, once for the Zim HipHop awards. Music has been my life, i love creativity i love showing the world what Bulawayo can do.
MB. what inspires you?
Mzoe; I am inspired by everyday life, growing up in the Ghetto has actually shaped me, Ghetto life has inspired me do what i do today and do it well, life from the ghetto speaks volumes in my musical journey.
MB.What can we be suprised to know about you?
Mzoe; I do not drink tea, or beer, and i do not smoke.
MB. what are some of the challenges you have faced in the music journey?
Mzoe; The main challenge for many musicians and for me in particular is the distribution of our work, and we have  this big challenge that we lack the distribution companies to help us to put our work to the public.
MB. one word to describe yourself
Mzoe; Creative
MB. tell us about your fashion label
Mzoe; the idea came from everyday life, setting new trends, it comes from my name Gagagugu we make Tshirts, which range from $15, flat caps from $8, hoddies $30. People  have  accepted the label very well and many are seen wearing the tshirts in the streets of Bulawayo and that makes me proud and happy.
MB.is there money in music?
Mzoe: definately yes
MB.what is unique about your music?
Mzoe: Catchy
MB.what can we expect from Mzoe7 in 2017?
Mzoe; more collaborations with other local artists, videos ,movies and films and a recording deal. See you at live perfomances such as Intwasa, Ibumba arts festival.
MB. what can you say to the youngsters out there about life?
Mzoe:Be patient and respectful stay away from drugs and alcohol ,in everything you do put God first because the talent that you have comes from God and it is a blessing from him. Respect elders and be humble.
MB. thank you for your time
Mzoe: my pleasure